by Ian Anderson
Home of the world's largest media conglomerate, global center for education and medicine, and "ground zero" for specialized, high value-add, professional services firms in the region. And now, Downtown Philadelphia will finally facilitate the world's largest mutual fund in its urban expansion.
The effect of these "new economy" occupiers on Downtown Philadelphia's office market is most evident in the demand for space in trophy office buildings, where nearly 95% of space was occupied before the FMC Tower was completed. The overall market, too, is historically about as tight as it gets with a vacancy rate of 11.0% in Q4 2016. For owners, it doesn't get much better than this.
Nonetheless, with cranes in the air and new office buildings readying for completion, the dynamics are changing. Where do we go from here?
Figure 1 below offers guidance to tenants, seeking some relief for more space, and owners, wondering how long the good times will last. In short, through the end of 2018, we see the market shifting more favorably towards tenants, but not by much. Key to this outlook is the belief that the economy will remain sound.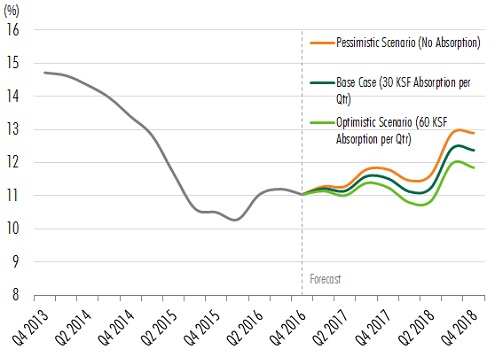 In 2017, this market should remain as tight as ever. In 2018, with the completion of 3675 Market Street and 2400 Market Street, the space vacated by tenants moving to these buildings will likely be more than the amount of space leased, thus increasing the vacancy rate.
Nonetheless, we don't see the pessimistic scenario becoming any worse unless the economy changes substantially. And if we don't see the vacancy rate rising above 13%, that's still a relatively tight market for space. At the other end of the spectrum, our optimistic scenario is somewhat muted, only assuming 240,000 sq. ft. gets absorbed each year (this equates to the average over the last five years).
Average asking rents, which have never been so expensive, are forecast to become even more so (Figure 2). In spite of potentially higher vacancy, our optimistic view on asking rents are due to:
(1) continued, relatively tight market conditions,
(2) new owners of Class A buildings making improvements to attract tenants and consequently asking for higher rent, and
(3) a continued flight-to-quality space by tenants, making some of the less desirable, vacant office space increasingly obsolete and less influential as a drag on overall rents in the market.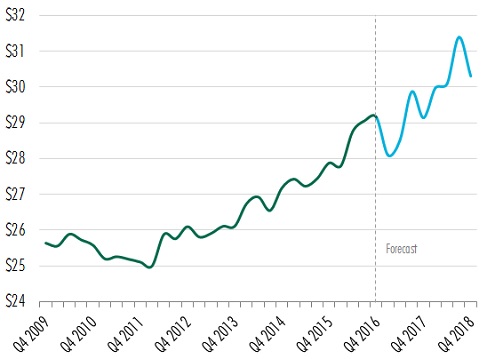 Of course, our certainty in these forecasts wanes the farther they stretch into the future, but we have a high degree of confidence in the local economy and are assuming no other significant completions by the end of 2018, or even in early 2019.
The risks remain abundantly apparent, but are accounted for in our forecast. Besides economic growth, one of them relates to the outsized demand for space from co-working companies. Nearly 1/3 of all net absorption in Downtown Philadelphia since early 2015 was due to co-working spaces. The other risk relates to the unrelenting growth by Comcast. For now, our view is that both of these sources of growth are stable.