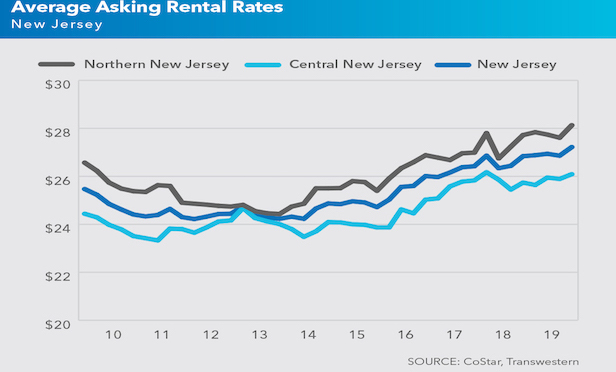 The New Jersey office market is showing continued improvement and in the second quarter set a new record high for asking rents, according to a report released today.
The statewide average asking rent reached an all-time high for the second time in the past three quarters. The New Jersey office market recorded its fifth consecutive quarter of positive net absorption, driving the state's average asking rent to a historical peak of $27.22-per-square-foot, which marked the first time the average has ever exceeded $27-per-square-foot.
Multiple submarkets throughout the state are experiencing higher than 5% year-over-year growth in rents including Woodbridge/Metropark, Edison South, Parsippany Region, Hudson Waterfront, Wayne/Paterson and Somerset/Interstate 78 East.
Of the state's 21 submarkets, 15 are posting higher rents year-over-year and compared to the previous quarter. In addition, 13 of the 21 submarkets are experiencing occupancy levels that are higher than the state average.
"Continued demand for high-quality office space is supporting both successful repositioning of existing assets within prime locales and this cycle's first speculative ground-up office development. These factors are putting upward pressure on overall market rents. The steady success of the New Jersey commercial real estate market is encouraging investors to move forward with new development plans throughout the state, in both urban and suburban areas."
Among the major commercial real estate projects underway in the Garden State include Toll Brothers' 1000 Maxwell Lane in Hoboken; 350,000 square feet of office space planned in Morristown by SJP Properties and Scotto Properties and the Silverman Group's plans for more than 100,000 square feet of office space above existing retail properties in Morristown.
"The U.S. economy reached the longest expansion in U.S. history and at the same time, we're seeing some remarkable trends and growth in the office sector. However, the Grow New Jersey tax credit program expired with no replacement and remained under scrutiny, which may pose some challenges to attracting and retaining businesses. The minimum wage increase could also impact hiring and potentially decelerate overall growth."
The largest new leases signed in the suburbs by life sciences companies include the IQVIA sublease for 115,000 square feet in the Somerset/I-78 East submarket and Genmab U.S. Inc. for 90,000 square feet in the Princeton submarket. Other sectors during the that drove activity during the second quarter included law firms, professional services firms and healthcare companies, while government tenants were particularly active in Newark.
www.omegare.com