by John Jordan Globest.com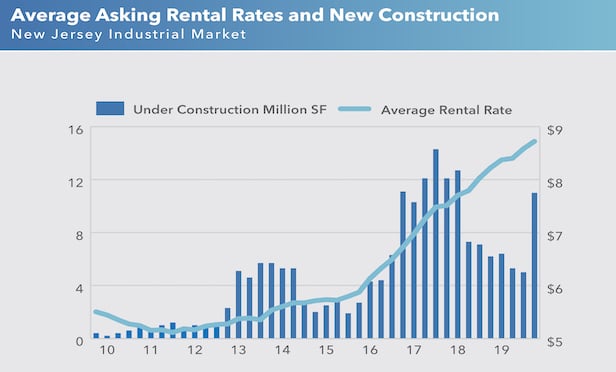 The industrial market in the state of New Jersey set new records at the end of 2019 for low vacancy and high rents.
In its fourth quarter 2019 industrial market report for New Jersey, showed the big box bubble is showing no sign of bursting as new construction continues to lease up quickly.
New Jersey's industrial market finished the year at a record-low vacancy rate of 3.5%. The decade also ended with 18 consecutive quarters of increased rents and 16 consecutive quarters of record-high rents, closing 2019 at $8.73-per-square-foot.
Last year, new development in the Garden State slowed down with 4.7 million square feet being built, the lowest amount recorded since 2016. During 2019, 5.4 million square feet of industrial space was absorbed, the lowest level since 2012, due to limited supply.
"The scarcity of available land, especially in northern New Jersey, has slowed development in the past couple of years, and most new construction has been leased up quickly. Following exhaustive searches, challenges with rezoning and environmental factors, developers have replenished the construction pipeline heading into 2020."
At the close of 2019, nearly 11 million square feet was under construction in core New Jersey markets, including more than 1 million square feet in the pipeline for five of the 25 submarkets.
Rents continued to rise, albeit at a slower pace, increasing by 6.1% from a year ago. Led by Exit 8A and the Hudson Waterfront submarkets, 17 of the 25 submarkets included reported higher rents than a year ago, with nine increasing by more than 10% year over year. New construction is commanding double-digit rents, with some approaching the mid-teens.
"Industrial real estate will remain the preferred asset class for investors and will also be the safest investment during periods of economic uncertainty. E-commerce was the catalyst for demand during the past decade, and recent reports of record-setting online shopping points to continued prosperity in the industrial market heading into 2020."
E-commerce continues to have a positive impact on the industrial space as it has created "reverse logistics, or the need for separate facilities to handle returns directly by the originating retailer or third-party logistics providers."
Key data points that clearly indicate the emerging influence e-commerce has on retail sales and the industrial real estate market.
E-commerce as a percentage of overall U.S. retail sales surpassed 11% for the first time in the third quarter of 2019. At the start of the decade, Amazon did not occupy any industrial properties in New Jersey. By the end of 2019, the company now occupies more than 12 million square feet in the state.
Cargo volume for the Port of New York and New Jersey continued to set records, the latest in November 2019, maintaining its position as the second-largest port in North America. By 2050, cargo at the port is expected to double.