by John Jordan Globest.com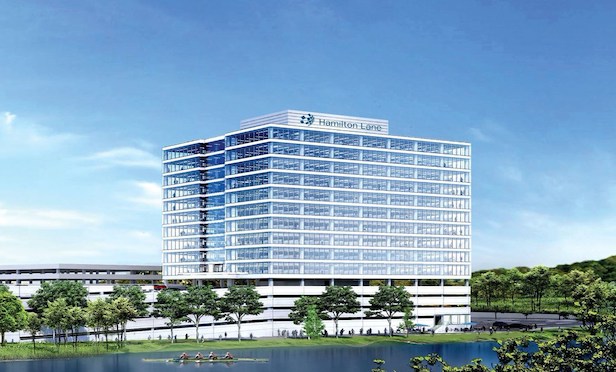 Partners American Real Estate Partners, Oliver Tyrone Pulver Corp. and global investment management firm Partners Group have broken ground on the 14-story, 260,000-square-foot Seven Tower Bridge office tower here.
The project, which is scheduled to be completed in November 2020, has already secured a 130,000-square-foot lease with global private market asset management firm Hamilton Lane, which will begin occupancy of its space at the property in 2021.
This groundbreaking marks not only the next step in our partnership with Oliver Tyrone Pulver and Partners Group, but also another opportunity to further support the economic vitality of this region," says Doug Fleit, CEO of American Real Estate Partners. "Seven Tower Bridge captures the tenant demand for expansion and relocation attracting major financial and technology businesses to Conshohocken, one of Philadelphia's fastest growing suburbs."
The Class A office tower designed by Skidmore, Owings & Merrill features a travertine marble lobby with floor-to-ceiling glass walls, river view collaboration space and an outdoor patio. Over four levels of underground parking, the first office floor is 50 feet above grade, offering unobstructed views and natural light. Other amenities include riverfront walking paths, a 30-mile bike trail, fitness center, bike room and two nearby Marriott hotels.
The building is projected for early 2021 tenant occupancy, and Oliver Tyrone Pulver will lease 4,000 square feet of space in the new building, providing an onsite owner-manager presence at the property. Shoemaker Construction, the building's general contractor, will also lease 5,000 square feet at Seven Bridge Tower.
Located along the Schuylkill River and at the intersection of I-76, I-476 and the Fayette Street Bridge, the building is located one block from the SEPTA regional rail station and adjacent to Philadelphia's Main Line suburbs.
Construction financing is provided by Mesa West Capital, LLC, a unit of Morgan Stanley Investment Management.
www.omegare.com