by Steve Lubetkin, Globest.com
Multiple factors are propelling the US life-science industry into a strong expansion, giving major research-and-development centers like Philadelphia some opportunities for attractive growth in the real estate that supports R&D.
While many US industries are navigating fundamental disruption, the life-sciences industry—which includes pharmaceuticals, biotechnology and medical-device manufacturing—is on a long-term expansion track. The report examines the generators of the industry's sustained growth, including the aging US population, increases in public and private funding, hefty job gains and robust construction of lab and R&D space.
"Many solid trends support strong growth going forward for the life-sciences sector, especially in major R&D markets. The Philadelphia region is particularly well-positioned with a strong industry presence in University City, the Route 202 corridor, and the Navy Yard, among others. The market for lab space in these submarkets offers several secular growth drivers and constrained supply."
Greater Philadelphia is one of the nation's traditional life sciences centers, but is also reinventing itself as the industry changes. Between 2001 and 2016, it lost almost one-third of its drug manufacturing employment. This took place mostly in suburban Montgomery and Chester counties, where the bulk of Greater Philadelphia's life sciences industry has historically clustered along the Route 202 Corridor. Over the same time, Philadelphia's deep pool of R&D talent has remained stable, but is slowly moving from the suburbs to the city's growing Philadelphia Navy Yard and to University City.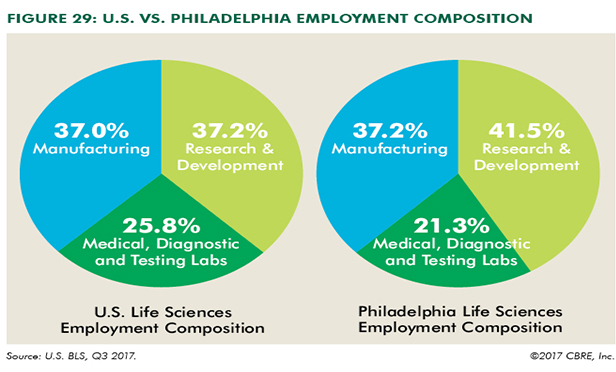 Among the factors that are expanding the life-sciences market are: the nine-year gain in average life expectancy in the US since the 1960s; rapid advances in life-sciences technology; and increases in funding from the National Institutes of Health and venture-capital sources. For example, venture capital investment in the US life-sciences industry now is 53 percent greater than 10 years ago.
"When you look at the landscape of investment opportunities within the commercial real estate sector, few asset classes offer as compelling a case for near-term optimism as the life-sciences industry. Our team has analyzed the labor trends and found that, especially in Massachusetts and California, there are significant growth opportunities within the life-sciences industries going forward."
Analysis found that regions with high concentrations of research and development jobs also saw the highest growth in their overall life-sciences job bases in the past 15 years. That indicates continued strong growth for leading R&D markets such as Boston, the San Francisco Bay Area, San Diego and Raleigh, NC.
In contrast, markets with a historical reliance on the pharmaceutical and medicine-manufacturing industries, such as Philadelphia, likely will grow at a slower pace than the R&D markets as they reinvent themselves.
In addition to its deep talent pool, a key factor driving the Philadelphia life sciences industry is its major universities and hospitals. With its accessibility along the Northeast Corridor and its much lower costs compared to New York and Washington, DC, Philadelphia is a very attractive location for life sciences companies. However, a relative lack of capital availability remains an impediment to stronger growth for the industry in the region. Aside from significant funding from NIH, the region lacks sufficient access to venture capital for some emerging companies to stay there.
Still, remarkable achievements and ground-breaking research are being conducted in Philadelphia, particularly in gene therapy. Recent developments demonstrating the momentum of the region's life sciences industry include the rapid expansion of Spark Therapeutics, plans by China-based pharma firm KPB Biosciences for a Philadelphia-area headquarters, and a $100 million investment in University City-based Tmunity Therapeutics.
www.omegare.com